Fall Leaf Pickup Returns October 25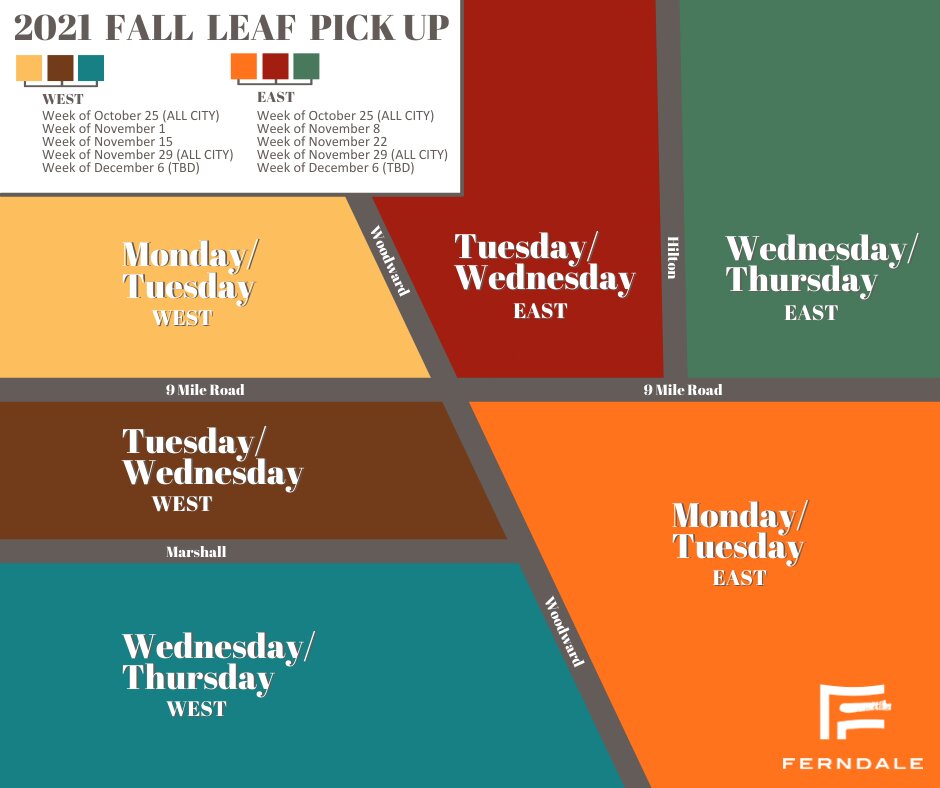 Are you ready to rake your leaves? The City of Ferndale provides complimentary curbside leaf pickup to all residential streets annually during the fall season. This year, the curbside leaf pickup program will begin the week of October 25, 2021, and run through the week of November 29, 2021, with optional service the week of December 6, 2021, if necessary. Each street receives pickup according to an east-west schedule, with different areas served throughout the week - see the schedule above!  Please note: the schedule is subject to change according to any weather delays.
HOW DO I PARTICIPATE?
To have your leaves removed, simply rake them to the curb by 7:00 a.m. on the day Public Works is scheduled to service your area, and they will be removed by the end of the week. Whenever possible, park away from leaf piles so the Public Works crew can access them. Leaves piled high for long periods can create parking hazards.
CAN I INCLUDE YARD DEBRIS WITH THE LEAF PILE?
No, not with this particular service. The City's leaf pickup trucks are not able to process sticks, branches, stones, and other such debris. Including these items in your leaf piles harms our machinery and can create a slower leaf pickup process. We kindly ask you to keep your leaf piles free of additional debris.
To dispose of yard debris, you are able to use brown craft recycling bags or canisters with clearly marked labels for "yard waste." This pickup happens weekly on your regular trash day beginning in April and running through mid-December. You can add leaves to your yard waste bags if you prefer.
DO I NEED TO MAKE AN APPOINTMENT?
No, there's no need to call! Scheduled leaf pickups replace the on-demand systems of the past, and our current service provides a better, more organized coverage for all.
WHAT IF I FORGET?
If you miss a pickup, please wait to rake your leaves out until the weekend before your next scheduled pickup week. Leaving piles high for extended periods of time can create parking hazards. Whenever possible, please park away from leaf piles so DPW can easily access them.
We appreciate you raking in accordance with our schedule! For additional information, please click here.